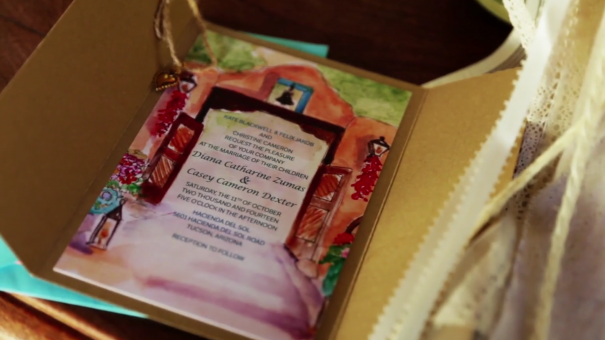 Hacienda del Sol::a tale of two weddings-part 1
Talavera tile. Cafe lights. Blooming cacti. Events under an open southwestern sky. Hacienda del Sol has long been one of my favorite venues…every time I have the chance to film there, I see something new, find a new backdrop or a photogenic spot that I didn't know existed. It's quite a magical place, with rustic charm, incredible food and drink and gracious customer service. Built in 1929 as a "home away from home" boarding school for girls, it is a historic jewel. The likes of Spencer Tracy, Audrey Hepburn, John Wayne and Clark Gable have all signed their names in the guest book. While Hacienda del Sol has added numerous amenities since 1929, it has never lost it's southwestern flavor and understated elegance. I almost feel like I am walking into a sacred space when I enter the front archway. The grounds are lush and lovingly tended, and much of the original character remains. No wonder it is known by some as "The Soul of Tucson in the Heart of the Foothills." I have had the privilege of seeing many hearts set aflutter at this utterly romantic inn throughout my years as a wedding filmmaker. In the next two weeks, I will post two of my most recent favorites to my blog; hence, a tale of two weddings.
Let me introduce you to Diana & Casey. Their wedding at Hacienda del Sol last October was beautiful, funky and full of song. Casey sings and plays a mean guitar. The entire day was filled with music, from the Sonoran Dogs playing during the ceremony, cocktail hour and reception, to DJ Rahm from Satyr Entertainment emceeing, to Casey playing a song at the end of the evening. Even the first dance song "If I Needed You" by Townes Van Zandt was sung live by Joel and Ivy Ricci. The trumpet resonating through the courtyard was ahhhmazing!
The southwestern ambiance of Hacienda played a big part in the theme of this wedding. The watercolor inspired invitations featured the front gates, while Talavera cowboy boots graced the top of the wedding cake. The table numbers were black and white sketches of desert creatures, and Diana's gown switch before the reception to an off shoulder, cotton, southwestern inspired gown and cowboy boots was the perfect touch. Just like the gentleman toasting the couple says, "Tonight, they are both winners". So true. Thanks Diana & Casey for letting us share such an ahhmazing day with you and yours. Exceptional. Loved it….BRAVO!
AND Bravo to the following wedding rockstars:
Venue: Hacienda Del Sol
Venue Coordinator: Rachel Allen
Event Planner: Meagan Crain, MC Events
Photographer: Kelly Rashka
Filmmakers: Black Sheep Filmworks
Cake: Ambrosia
Florist: Atellier de LaFleur
DJ: Satyr Entertainment
Band: Sonoran Dogs