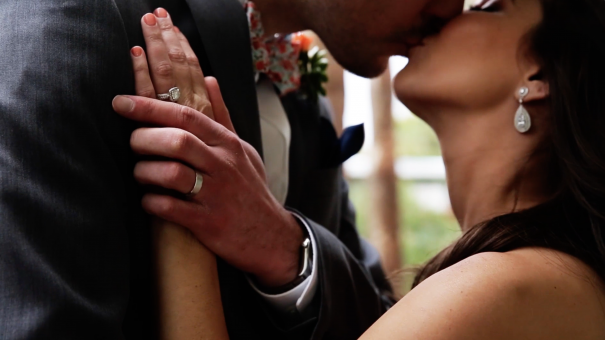 I often hear my couples discussing wedding photography, and the love of the "candid" photo. You know, the one where everyone is not mugging to the camera, but where they look fabulous, the foreground is clear of unnecessary clutter and the background has just enough bokeh and none of the wait staff clearing plates. Phew…that's a lot of things to accomplish in one photo.  The "candid" is where video excels. As a videographer, I film 24 frames per second, and I have no loud shutter or distracting flash. I am like the ninja of the candid.
When you see a good wedding video, you will feel connected to the couple, even though you don't know them. The reason? Because it is real…a video is actual moments, not posed photo ops.  A good wedding filmmaker knows how to anticipate those moments, during your vows, first dance, even during the photo session. Some of the best real moments happen when posed photos are being taken…or just after. I will tell you to "just look at each other, hang out…hey, you're married!" You smile at each other, look into the eyes of your beloved, maybe even get a little teary…real smiles, reveling in the moment.
I walk a fine line between emotions and technology. In order to capture those moments, you can't have giant cameras, blinding lights or fussy camera gear (drones, gimbals, jibs and sliders, OH MY!). Now, I love really good tools and new technology…if a cool time lapse is really going to tell your story better, let's do it! But time is finite on a wedding day, and I truly feel that creating real memories, taking time to have a first look with your Dad, dancing with your favorite Aunt, taking 10 seconds to look around at your friends and family during your ceremony, those are so much more important than having a drone fly over your wedding party during the recessional. I don't want to create a false reality, I want to capture the essence of you and yours.
When you look at a wedding video, you should see and hear emotion, and feel the vibe from that day. Nothing will bring you back to this "best day" better than sight, sound and 24 frames per second. I love beauty shots of the two of you, but if you look at one of my films, you will only see those used when there is connection. If I see any "pose-y" moments, they don't make the cut. I want your film to capture that day, your story, that only happens in this small window of time.  Candid photos transport you because they feel honest and precious…like you could have missed that moment, when a shutter snapped, but there, by the grace of God, you have it. It is the same for the wedding film, but x10. All those moments, toasts, glances, vows, dance moves…there, in a beautiful film. Watch, listen and feel Lindsay and Chris' ahhmazing wedding held at the Valley Ho in Scottsdale. It will make you laugh, cry and feel; it resonates because it's real 🙂
Read more →