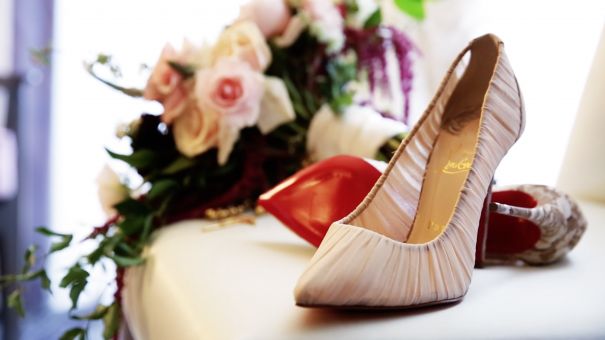 Your wedding is not "too cool" for a wedding video
After filming and editing weddings for just under 25 years, I have to say something. I've stayed quiet, kept my head down, created fab films for ahhmazing couples, but I must call you out. Yes, you. The newly engaged, or the engaged-about-to-walk-down-the-aisle, who are "not having video." I hear it often, when I ask  the engaged "Who is your videographer?", they look slightly annoyed, and even puzzled by the question. "Oh, we aren't having video…but we have a great photographer!", as if the photographer is going to fill this motion picture void with their wonderful photos. FYI: they won't, because they can't. Photos cannot tell the same story as a visual medium that walks and talks, and the biggest regret of newlyweds, according to a recent TheKnot.com poll, is the lack of a professional wedding video. Video is no longer cheesy, and it's no longer a luxury. It's like a documentary film, but better, because it features you and your family and friends. In your best clothes. You won't realize the power of it until the day after your "big day". That's when you will thank your lucky stars that you found your creative filmmaking genius, paid them a chunk of change and now have more memories, in sight and sound, than you realized was possible.
Here are a few misconceptions about wedding videos, and my thoughts.
Video is obtrusive.                          
It used to be, with big lights and even bigger cameras. But thanks to the DSLR revolution, video cameras are the same size or smaller than a standard still camera, and sometimes they are the same camera. Their          low light capabilities and beautiful imagery make them the perfect choice for stealthy filmmaking. So many times I hear "I didn't even notice you guys and you got everything." Modern wedding filmmakers are like ninjas, with cameras.
Video is cheesy.
It used to be, with heart wipes, selective color and slow motion (oh, wait, slow-mo is back in, but I digress). The wedding video is now the wedding film, and it truly is like a movie. Most wedding videographers are really documentarians, who want to show the events of your day as they happened, but in the most emotional, timeless and entertaining way possible. I have a very detailed questionnaire that I send to my clients before their wedding, and it really shows me what is important to them. Who the key family members and friends are, the fonts used on invitations and signage, what music you love and hate, anything special to you two, and your wedding day. The knowledge of your personal stories and the details of  this "best day" make it easier for us to get involved and pull the most honest, emotional moments from hours of footage. I also love to meet before the wedding, over coffee or a cocktail, and get to know you…if not, a chat via skype or facetime can make us all friends.
Video is a luxury we can't afford.
When all is said and done, all you will have left from this most ahhmazing day is your wedding video and photos. Make room in the budget! Forgo the wedding favors, over-the-top decor, have one less dinner course and get a REALLY GREAT WEDDING FILM.  Find a filmmaker in your area (I'm happy to help as I know the most incredibly talented people all over the world), look at their work, read their reviews, and email or call them. Get comfortable, see if they make you smile, and if their work makes you laugh, cry and feel connected to these people that you don't even know. If it does, hire them. You will be so happy that you did.
I'm/My beloved is camera shy.
Most people are, but the good news is, it isn't all about you, or your beloved. Well, it kind of is, as the betrothed, but it's really about how people react to you. It's how everyone gets misty during your vows and cheers during your pronouncement and recessional. It's about your favorite great Aunt in a dance-off with your best man. It's about the toasts. It really is about the toasts, because without a professional videographer, with really good audio knowledge and equipment, those toasts are going out into the ether, never to be heard again. This is one of the many reasons you cannot leave the wedding filmmaking to your cousin and his iphone (bless them). The video may be passable to good, but the sound will not be, and the audio is at least one half of what makes a great wedding film. So, don't worry about being camera shy. SO many of my clients say the same thing, and are put totally at ease on the wedding day. We are fun, we want you to have fun, and we want to record the fun. No stress, only good times.
Photographers and Videographers don't get along.
Not true. I love my photographer friends, and they refer me A LOT. We work well together, have innovative energy, and make sure everything is documented in all its glory. We are artists, and enjoy the creative process.
So you, you the "oh, we aren't having video" types, I beg you to reconsider. Check out a few of the highlight films here, from couples just like you, who didn't want video at first. Thankfully, a smart wedding planner, a lovingly controlling Mother-in-law-to-be, a Dad who likes to record every moment, someone who knows the power of the wedding video, intervened. You, and your most wonderful day are not "too cool" for video, in fact, it's just the opposite. Your wedding will be so heartfelt, beautiful and timeless, it will make an ahhmazing film.  Call or email your best local wedding filmmaker. You will be so happy you did.