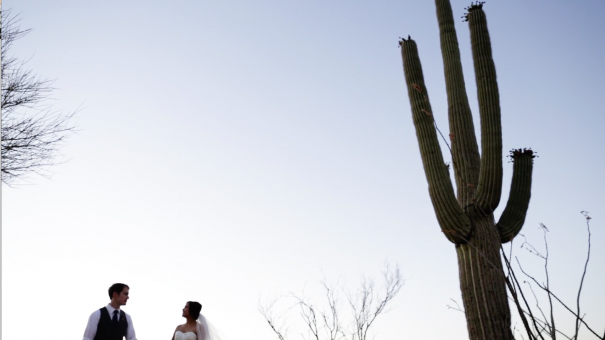 Okay, so maybe I'm a little biased. I was born and raised in Tucson. I grew up swimming in our backyard pool from March through November. Flip flops, shorts and a sweatshirt (which I normally ditched by noon) were my cold weather outfit. Hiking to Seven Falls with a backpack full of my Humanities homework was my weekend hangout as I attended Salpointe Catholic High School.(GO LANCERS!) Many days were spent in the glorious sunshine on the U of A mall, writing scripts and honing my camera skills…and possibly checking out the Rugby team (BEAR DOWN ARIZONA!). Tucson is a very special place to me…it's my hometown.
After graduation, I left Tucson. I couldn't wait to leave. Bright lights, big city…LA, San Francisco, cable tv shows, studio services, feature films…it was fun. But it was hard. Feast or famine. So I came back. I couldn't wait to get back. The mountains, the monsoons, the Mexican food, oh, and my family that I missed terribly. I met my hunky English hubby, started Black Sheep Filmworks, rescued an Australian Shepherd, a brown tabby cat and an Australian Cattle Dog. I also gave birth to two of the finest human beings you will ever meet, Alexa and Aidan. Okay, so maybe I'm a little biased.  Tucson is the place that chose me from the get-go. And the place I chose to call home when I had a choice.
YOU have a choice as well, where to hold your wedding. That most ahhhmazing day with your dearly beloved(s)….why choose Tucson for a Destination wedding?  Here are my top five reasons:
5. The Scenery. Search  "Tucson, Arizona"  in google images and you get choices: Mountains, Skyline, Sunset, Downtown and University of Arizona, all of which are spectacular, especially the mountains and the sunsets. All sunsets with high wispy clouds are pretty, but when you have a sunset with gorgeous color AND a huge saguaro in the background, that's ICONIC.
4. The Venues. From The Ritz-Carlton, Dove Mountain to the Arizona Inn to Hacienda del Sol, just to name a few, Tucson is full of  world class resorts, spas and inns that want to pamper you and your guests with loads of Tucson hospitality. The views, the food, the pools, the golf…just basking in the warm Tucson sun, it's AHHHmazing!
3. Margaritas. From prickly pear to mango habañero, you won't find a better specialty cocktail. Enough said.
2. The Wedding Professionals. Or the Wedding Vendors, or "Friendors" as my friend Brie Dumais of Brie Dumais Designs likes to call us;) Hands down, some of the most talented, creative, fun, hard working, kick a** individuals you will ever have the pleasure of being around. From florists to photographers, event planners to filmmakers (!) Tucson's talent is extraordinary. And we all like each other. We will scramble up a hill loaded with cacti and maybe a gopher snake or two (don't worry, they're non-venomous ;)) to get that dream shot of you and your beloved. We are used to this 100+ degree "dry" heat. We don't over direct and under produce. Golf carts, Quarter horses and dirt bikes were probably our first mode of transportation, or our most recent, so we've got you covered. We know Tucson, we love it, and we want to share it with you and your besties.
1. The Feel. No place in the world feels like Tucson. It's a sprawling city (over 227 square miles!) in the middle of four mountain ranges under a huge sunny sky 350 days a year, but it still feels like a small town. When I meet a new client, somewhere in my portfolio, you will know someone. 6 degrees of separation with Kevin Bacon? It's about 2 to 3 degrees of separation in Tucson.  From The Arizona Sonora Desert Museum to the Mission San Xavier del Bac, Tucson is full of natural beauty, wildlife, and history. And really nice people. Come to Tucson for your Big day, home of the best sunsets, warm sunshine, spas, saguaros…oh, I could go on and on. Okay, maybe I'm a little biased…
Want to see a destination:Tucson wedding in all its glory? Alison and Jelani, otherwise known as ALizona and Uncle Jeli ;), brought everyone out from Houston and beyond for an incredible wedding at the Ritz-Carlton Dove Mountain. From some gorgeous royal blue Badgley Mischkas, to lobster mac n' cheese, to sparklers, to some truly epic dance moves, THIS was a night to remember!
Thanks Alison & Jelani…and ENJOY!!!
Many thanks to the following wedding rockstars:
Venue: The Ritz-Carlton Dove Mountain  Event Coordinator: Madison St.Clair
Photographer: David Sanders  Filmmaker: Black Sheep Filmworks  Florist: Posh Petals  DJ/ Band/ Musicians: Simply Three & DJ Andrew  Photo booth:Clear Choice Photo Booth
Read more →