Andrea & James just sent this out, and I received it last week. I'm having major craft envy.
It's a "Save the Date" for their wedding next September, with a "ticket" with all of their wedding info. SO CUTE! They are getting married on the Colorado river, on the border of Bullhead city, AZ and Laughlin, NV.  They have a beach theme, and Andrea's dad is planning a flotilla on the river to honor the bride and groom! I can't wait!  I got to know them at Andrea's sister Brie's wedding here in Tucson in June of 2009.  Brie and Jon's wedding was gorgeous, with one of the many highlights being the Same Day Edit we showed to family & friends during the reception. We laughed & cried, and ended the eve to applause and "Bravo!"  AND WE GET TO DO IT AGAIN! Chris Richards, who took the AMAZING pics of Brie & Jon's big day, is also traveling from Tucson to shoot Andrea & James nuptials. The "dream team" will be on the river!  We are honored and super excited to be the filmmakers for Andrea & James…BRAVO!!  Just for fun, here are the out-takes from Brie and Jon's wedding. This should give you some idea why we are SO excited to grab this same crew, and  take this show on the road!
http://www.vimeo.com/17682290
As I titled this "have sheep will travel", we also had the privilege of flying to Jackson, WY to film Dana & Adam's wedding in July. I had never been to the Grand Teton National Forest, and it's so majestic, I kept asking myself "Am I doing this justice?" I think we all feel like that when trying to capture the scope of something so grand. We want the viewer to not only see what we see, but to feel what we feel. This is one of the reasons that weddings are my biggest joy, and my biggest challenge. I want to capture what is the most special to the client, but also all the details which make the story rich and real.  The anticipation and wonder in the air at Dana & Adam's wedding was almost palpable–and one of the things I love about destination weddings. Once you get there, you and your loved ones are on vacation. You can relax, go for a hike, get a massage, hang out with family…it's a great way to get mentally and physically prepared for the "big day." Like Dana/Adam and Andrea/James you have to be uber organized, and be able to let go of the little things. I was told having us along also helped ease the stress, relieving the "fear of the unknown."  Dana & Adam knew how we worked, and they didn't have to "babysit" us. We knew where to be and when, and filmed all of those little moments that are so easy to forget. We even got to go on a float trip down the Snake river with our bride and groom and family. The bald eagles were fishing and even took a few rapids. How many couples get to have something like that professionally filmed?  It also helps to hire professionals like Carrie Patterson of Carrie Patterson Photography. She photographed Dana & Adam's wedding with so much style and calm creative energy. She made us feel at home and was a joy to work with. AND her photographs are STUNNING! The ceremony and reception were held at Couloir Restaurant at the top of the mountain. Amazing views as we took the Bridger gondola to the summit. The ceremony was breathtaking, with the Long family singers left not a dry eye in the house with their renditions of "Love me tender" and "Here, there and everywhere".  As is the case with Derickson weddings, it rained…no, it poured, but this time the rain held off until just after the ceremony. We even had a rainbow! The food was fabulous, the dancing-fierce, and S'mores instead of cake. It was incredible—so glad we got to capture it in all it's glory! We also have the honor of filming sister Darcy's marriage to Anthony in Feb. 2011…I hear it has a baseball theme…let's just hope the rain holds off.  And if not, we may get some more stunning "kissing in the rain" footage!  Here is Dana and Adam's preview-Enjoy!
http://www.vimeo.com/16665381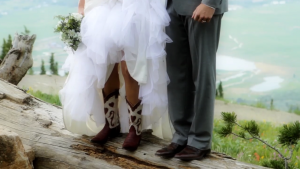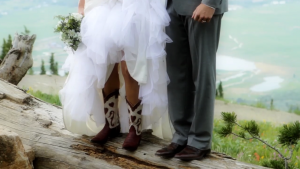 Read more →